The Master-Apprentice model stretches back to the days of painters like Rembrandt and I believe it's worth revisiting. By focusing on rebuilding others' interfaces to start with, you learn to 'train your eye'. This approach also helps you to develop the techniques you need to master before putting them into practice in your own creative work.
In the 17th century, apprentices's education was undertaken for a minimum of 2-3 years, and – at times – for as many as seven years. A two year apprenticeship was considered to be the minimum, with guild rules dictating that an apprentice couldn't leave their master before their term had ended.
An apprenticeship was an investment, with a total cost of 600-700 guilders, which could buy a small house at that time.
Undertaking a Virtual Apprenticeship
The good news is that – in our connected world underpinned by the web – you can embark upon a 'virtual apprenticeship' at relatively little cost. All you need is time and a willingness to work hard and learn. Dribbble is a good place to start. Search for UI, choose something you like and rebuild it.
If at all possible, find a mentor or a coach who will work with you, occupying the Master role. This person will serve three valuable goals:
They'll

hold you accountable

;

They'll direct you, helping you to

build a pathway of Master-Apprentice exercises

that are appropriate to your skill level and that ensure you're constantly levelling up; and

They'll help you to

pinpoint the moment when you're ready to move beyond the Master-Apprentice phase towards your own self-directed projects

.
One small, but important point to note: What I'm not suggesting is copying your finished user interface by raiding Dribbble like a Viking. I'm suggesting learning to use drawing tools – like Figma, XD and Sketch – by deconstructing and rebuilding others' work.
Examples
The following examples are by students I've worked with, at Belfast School of Art, other art schools and The School of Design. In every case, we've contacted the original designers to seek permission to use their work.
It's important to stress that – if you adopt this approach (which I recommend)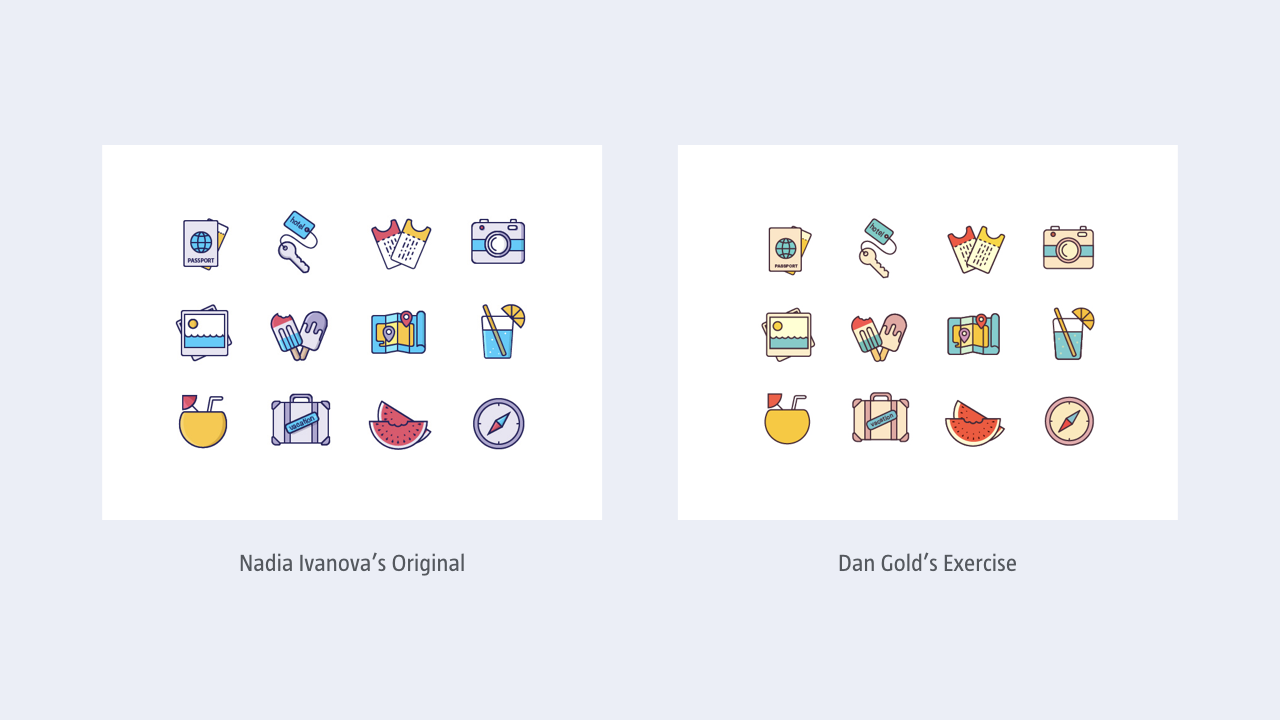 Dan Gold, a student on my Interaction Design programme at Belfast School of Art, created the above Master-Apprentice exercise. On the left is the original, by Nadia Ivanova. On the right is Gold's exercise.
Learning is Lifelong
I've been working as a designer for 30+ years and I still work on Master-Apprentice exercises to ensure my understanding of UX +/ UI design is constantly updated and to develop my skills. I might be fast approaching 50 years old, but I'm still learning!
It's worth stressing that I'm not the only seasoned designer who adopts this approach. Chris Coyier – the co-founder of CodePen and the wunderkind behind the wonderful CSS Tricks – also embraces the Master-Apprentice approach (although I suspect he doesn't consciously call it this).
Coyier's rebuild of Cultured Code's Things Status Board is a lovely example and ably demonstrates that even designers with years of experience are still focused on developing their own learning.
Reference Files
I'm adding to these, over time. Our first Master-Apprentice exercise was Kyle Tezak's US Bank project. We're grateful to Tezak for allowing us to use this as an exercise
If you're a member of The School fo Design, I'll have agreed specific reference files for you. Everyone gets different reference files because education isn't one-size-fits-all.